Residential locksmith in Yonkers, NY
Whether you've been locked out of your home, need to change locks, or need new keys, our lockout professionals have been in business for over two decades and know how to get the job done! We will respond within 20 minutes and arrive with a fully stocked van, so you'll never have to wait while we get the necessary equipment.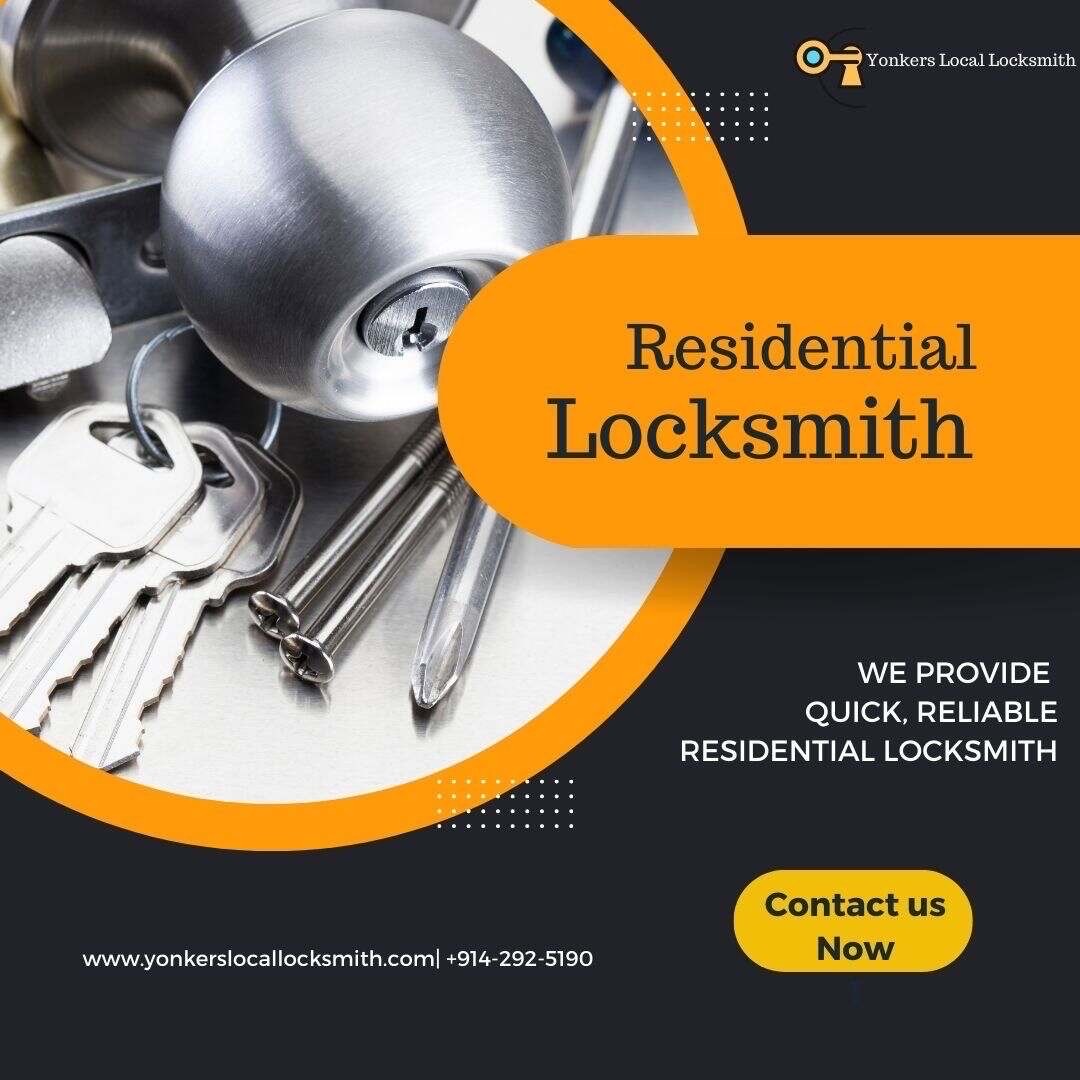 Yonkers, New York, residents have always found us trustworthy, loyal, and dependable.Put your Residential locksmith in Yonkers, NYrequirements in the hands of our professionals. Local Locksmith in Yonkers provides customers with comprehensive, dependable service from licensed, bonded, and insured professionals.
Protect your property with the most excellent equipment and services available from a locksmith. Numerous situations necessitate the services of a locksmith, like moving into a new home, replacing the garage door, installing a new front door, or losing a set of keys. This is sufficient cause to replace locks. Whether traveling or watching television at home, you may have confidence in the locks protecting you and your belongings.
We'll answer the phone any time you call and arrive at your place quickly!
Professional Commercial Locksmith in Yonkers, NY
When you need a locksmith for your house, workplace, or vehicle, you need someone you can rely on who has experience. We have over 20 years of experience, so you can confidently call Yonkers Local Locksmith. Your residence should be where you feel the safest, and Yonkers Local Locksmith can assist you! Our capabilities are vast from rekeying locks to implementing an entirely new security system. If you require a commercial locksmith in Yonkers, New York, our Yonkers NYC locksmiths are available 24 hours a day, seven days a week, to assist you.
Our Residential locksmith in Yonkers, NY, Services Includes
Locksmiths can assist you in keeping your house and family safe. Always change the locks after purchasing a new property. For residential locksmith services, call a Yonkers local locksmith professional.
Whether you are having difficulties with padlocks, simple door locks, or briefcase locks, our highly qualified locksmiths will come to you to fix or replace any lock. And naturally, we always guarantee our work.
When you need to change your locks, we provide high-quality, award-winning hardware made in New York.
Installation of Door Locks
Our residential locksmiths install hardware for your home, automobile, and business. Our service charges are pretty inexpensive!
Proper installation of Key Card Locks is essential for securing your family and house. Call and make an appointment with one of our state-licensed locksmiths for enhanced security.

20 Minute Residential locksmith in Yonkers, NY Response Time
If you travel throughout Yonkers, New York, and ask residents about the most trustworthy residential locksmiths in the area, we are confident that Yonkers Local Locksmith will be recommended. As a result, we have built a reputation within our clientele and community for having a dependable response time.
Everyone in our company knows that when a client requests residential locksmith services, it is frequently an emergency. Whether the request is to install or service a security system, replace the locks on doors and gates, or repair master key systems, we recognize that the client desires prompt completion.
This explains why it is essential for a service provider to immediately appear at the client's location and commence the service. And this will only be achievable if the business executes the procedure in the same manner as Yonkers Local Locksmith.
We deploy our professionals within twenty minutes of receiving the initial call. This is accomplished due to an effective procedure in place at our business. It enables us to connect with the next available technician or someone closest to the client's location.
This allows us to reach the designated site quickly and begin our work immediately.
24-Hour Residential locksmith in Yonkers, NY Emergency
A residential locksmith in Yonkers, New York, is aware of how crucial it is always to have a professional on call in an emergency. This is why Yonkers Local Locksmith additionally provides 24-hour emergency services.
New York, as the saying goes, is the city that never sleeps. And because Yonkers is a part of it, there may be residents whose free time is limited to obscene night hours.
In such situations, it is beneficial for the customer to choose a business with flexible and dependable business hours.
Yonkers Local Locksmith ensures that all residents of our good locations can access our services whenever they desire.
The Most Top-Rated Residential locksmith in Yonkers, NY Company
Yonkers Local Locksmith is undoubtedly one of the most highly regarded businesses in Yonkers, especially within the locksmithing industry. This is achievable because we place a high value on our customers and strive to provide them with the best solutions to their concerns.
We can fully provide our consumers with high-quality services because our team is composed of professionals. This reflects customer satisfaction and wins us a positive reputation in the community.
We can better provide you with the service you deserve due to the years we have spent working in the sector and honing our abilities and expertise in the profession.
Importantly, we strive to keep our fees as low as possible so that consumers avoid the financial strain of phoning a professional locksmith whenever they require assistance. This also encourages individuals to contact our skilled locksmiths and avoid performing their locksmith work.
If you ever need a professional locksmith, please do not hesitate to phone us at the number shown on this page. Local Locksmiths in Yonkers will always be pleased to assist you in any way we can.
Call our Residential locksmith in Yonkers, NY, Experts!
Our locksmiths are committed to making clients' lives easier. Locked out of a vehicle, home, or workplace is a distressing experience. The weather may factor in a person's desire to remain indoors, and the time of day may also provide an issue. When clients cannot enter an office, mailbox, or safe, appointments or other conditions can get troublesome. In addition to keycard locks used in businesses and industries, our locksmith service includes keycard locks used in homes.
Expert professionals are difficult to find, and our experts are ready 24/7 to provide locksmith services. No need to wait hours on a deserted highway or in the cold; residential locksmiths in Yonkers, New York, provide prompt and courteous service for house lockouts. Let our experts change a complex scenario into a simple resolution. Our mobile locksmith can unlock any number of doors or locking mechanisms. Lock rekeying, lock replacement, and service for high-tech locks are available 24/7 to residents of Yonkers, New York, and the surrounding area.