Commercial locksmith in Yonkers, NY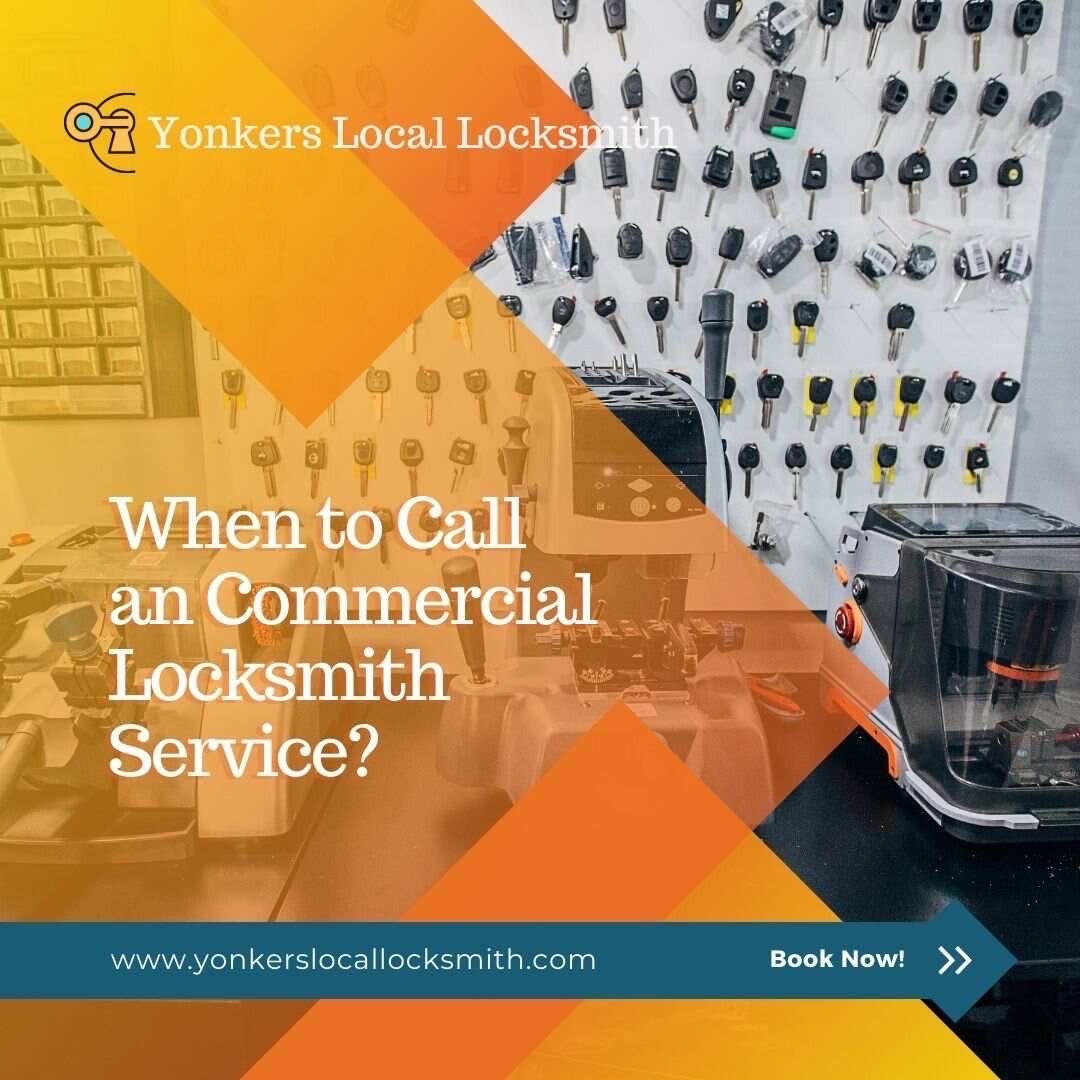 There is no need to trust anyone other than the Commercial locksmith Yonkers, NY, has relied on for over a decade. Over more than a decade in operation, we have demonstrated to many local businesses that our fully stocked van is equipped with the necessary equipment to get them back to work immediately.
Because we guarantee a 20-minute response time, local businesses have yet to discover a more trustworthy, dependable, or honest commercial locksmith than us. We understand that going back to work is important to you, so we'll get you back to work as soon as possible.
We are aware that break-ins can be costly not only financially but also mentally. Call Yonkers Local Locksmith to ensure an efficient and successful solution to this scenario, no matter how frustrating it may be. Our response teams ensure that we arrive when you need us the most, anytime, anywhere, 24 hours a day, seven days a week. We serve the Yonkers, New York, area with professionals motivated to give the greatest quality service possible.
Completely Licensed, Certified, and Insured Commercial Locksmith
Each staff member should be trained, licensed, and bonded, as we are a group of professionals.
Getting a license in this business shows that the locksmith has completed the necessary training and has proven his ability to assist clients as a professional locksmith. Additionally, this certifies that the locksmith has undergone background checks and is insured by a business.
This is essential for reassuring customers that they will be compensated if their property is damaged or a service request is not delivered.
In terms of training, our expert technicians are continually informed of the most recent advances in the sector so that they may make the necessary adjustments to how they accomplish their duties.
When working on a client's service request, our employees are exposed to various training sessions that make it easier for them to modify their methods and implement the most recent trends.
Professional & Affordable Commercial Services
At Yonkers Local Locksmith, we are happy to have a team consisting of professional locksmiths. All of them have the skill sets necessary for delivering the customer services we offer. What we appreciate most about our employees is that they are open to more than just a single area of competence.
As actual experts, each member of our staff can handle automobile, residential, and commercial locksmith needs. This makes it easier for us to dispatch technicians to our client's location since we often only need to consider two factors: who is instantly accessible and who is nearby.
And thanks to our team of experts, Yonkers Local Locksmith can give the finest quality service to our consumers. We never attempt to take advantage of our clients by performing shoddy work, as many other Commercial locksmiths in Yonkers, NY, services do. Importantly, we keep our prices as reasonable as possible.
Our company aims to provide quality locksmith services to as many individuals as possible while ensuring their payment capability. If this meant reducing the prices we charge our customers, we would gladly do so.
Yonkers Local Locksmith has an extremely competitive pricing structure that would be tough for any Commercial locksmith in Yonkers, NY, to surpass. This enables us to reach a larger client and provide our services to more individuals, exactly how we desire.
Commercial locksmith in Yonkers, NY Services We offer
We frequently provide the following sorts of commercial locksmith services in Yonkers, New York, as well as nearby areas:
A 24-hour unlocking service

Install and fix various lock kinds.

Rekeying locks

Lock replacement

Access management systems

Panic devices

Installation of CCTV
Yonkers, New York's commercial locksmith, is adaptable and offers 24-hour service in all weather conditions and all hours of the day. Many times, seeing our locksmith come to the spot to offer assistance where that person is stuck makes individuals feel comfortable. Our prompt and courteous experts can handle lockout scenarios and know how to maintain composure to reassure customers that the issue will be addressed.
Commercial locksmith in Yonkers, NY Emergency Locksmith Services in Your Area
As a business owner, you understand that your reputation is as important as your services. With 20 years of experience, we at Yonkers Local Locksmith can ensure the quality of our service and the satisfaction of our customers.
Your place of business or employment must be protected and should be a safe environment. Local Locksmith in Yonkers specializes in safeguarding your property with several high-tech options. Yonkers Local Locksmith is capable of everything from rekeying locks to building an entirely new security system, so that you can count on us.
If you want a commercial locksmith in Yonkers, New York, our professionals in New York City will be available 24 hours a day, seven days a week, to assist you.
Fast Commercial Locksmith in Yonkers, NY Response Time!
In addition to our 24-hour emergency services, we ensure we can reach our clients quickly. We make this possible by implementing a rapid response system within the company.
We have developed a system that allows us to dispatch one or more technicians to a client's location within 20 minutes of taking the initial call.
Suppose you called our hotline to request a service for the office building you own and manage. Our staff will ask you a series of questions relevant to the nature of the request to gain a better understanding of your concern and to be able to recommend the optimal solution.
After agreeing to the request and finalizing the timetable, you can expect our skilled specialists to be dispatched within 20 minutes of your call. This enables our experts to get to the client's location quickly to begin work.
Why Choose Us As Your Commercial locksmith in Yonkers, NY Company?
We are the leading locksmith company in Yonkers, New York, regarding commercial services. We accommodate all of our customers' locksmithing demands and can assist you with master key systems, keypad locks, panic bars, safes, and high-security locks.
We always provide the following:
Excellence in locksmithing

Fast response

Reasonable rates

Locksmiths with skill and expertise
Do not jeopardize your investment or employees by delaying the replacement or repair of your commercial lock's malfunction. Call Yonkers Local Locksmith now to schedule an appointment or receive a free estimate!