Locksmith Service in Yonkers, NY
Yonkers Local Locksmith is thrilled to be the best locksmith and security company in Yonkers, New York, and the surrounding area. Our expertise and genuine care for our clients support our exceptional services. We are committed to offering superior locksmith services to both businesses and residents.
At Yonkers Local Locksmith, we are a team of the most dependable, skilled, and reliable specialists who provide various locksmith services.We use licensed locksmiths with a reputation for meeting our client's expectations. Contact us whenever you need the assistance of a professional locksmith in your area. We assure you of exceptional service quality.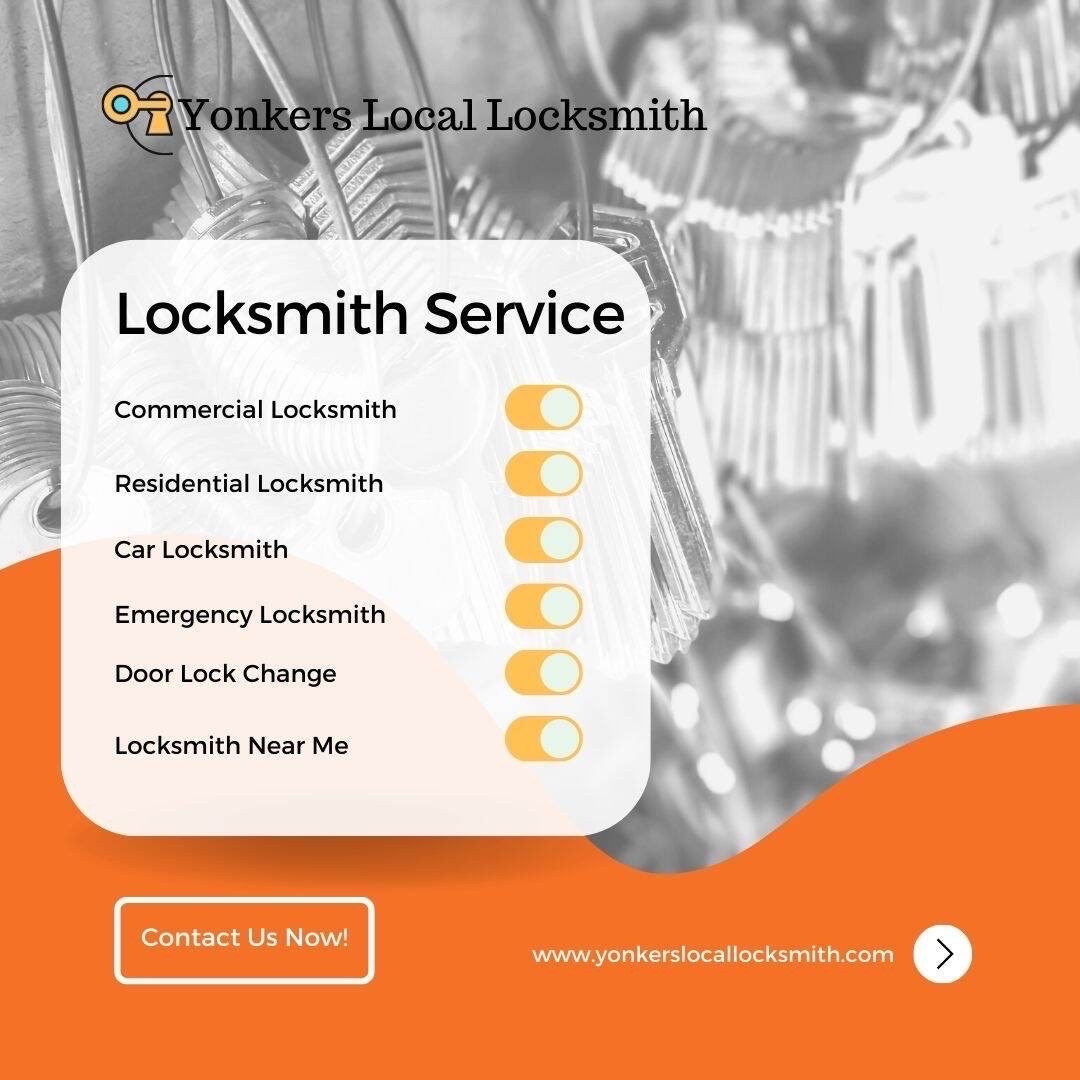 Our expertise in resolving any issue regarding locks and keys has made us the most competent locksmith in Yonkers, New York.
We've built our name on integrity, quality work, reliability, and competitive pricing. Our team has significantly contributed to the safety of Yonkers, New York, over the years. Our business assists property and vehicle owners in safely and efficiently resolve lock and key issues. We can accommodate you if you want us to rekey your locks, open your property, or improve your locking system. We have the essential abilities, experience, and equipment to do the task.
Commercial Services
At Yonkers Local Locksmith, we understand the need for a prompt response to your lock and key issues. As a mobile locksmith business, we can come to your location and deliver services there. Our professional and licensed personnel are in charge of your business and equipped with cutting-edge instruments to provide cost-effective solutions to your problems. You can trust that our locksmiths can handle any issue you may have with locks and security in general. You will enjoy a good night's rest knowing that your office is properly secured.
Residential Locksmith
We provide our locksmith products and services 24/7 at Yonkers Local Locksmith. No matter the time of day or weather, our residential locksmith experts will always be ready to assist you.
Our professional lock technicians have extensive knowledge and experience in repairing and installing various locks, including deadbolts, Mortise, lock cylinders, electronic keypad locks, and many others. When we determine that you need a higher level of security, we perform rekeying and lock upgrades.
Car Services
We provide locksmith services around the clock. Our car locksmith services include every type of ignition key, as well as ignition lock-ins and lockouts. Our team of car professionals can resolve any problem you're experiencing with your ignition key. Our 24-hour local locksmith in Yonkers will promptly arrive at your place to unlock your car, extract the damaged key, and create a new key on the spot. We can repair your ignition system and door lock if damage has rendered your keys inoperable, and we can also replace your ignition system if you've lost your keys. Our car locksmiths are skilled and knowledgeable in working with all the top automotive brands.
Emergency Services
Yonkers Local Locksmith is a team of professionals offering the most dependable and effective locksmith emergency service in Yonkers, New York. We specialize in providing every conceivable form of locksmith service. We can assist you if you require a residential, commercial, or automobile locksmith. Homeowners, vehicle owners, drivers, commercial property owners, property managers, and builders are among our clients.
Door Lock Change
If you need to change old or broken locks, call Yonkers Local Locksmith immediately. We are a competent locksmith service that has changed all types of door locks for years. Our Yonkers, New York lock changing service responds to the specific requirements of commercial and residential clients.
Our lock-changing service is performed by the most competent, talented, and knowledgeable locksmiths.
We are prepared to assist you with changing the locks on your workplace, apartment, filing cabinet, or mailbox. We can also install keyless electronic locks. Contact us anytime to schedule a consultation, get a quote, or use our services.
Competitive pricing and the Best Security Solution
Most emergencies are unanticipated and unbudgeted. As a result, you may only have a little money when you find yourself in a position requiring the assistance of a car locksmith. However, this does not give you the right to break into your vehicle or attempt to use rough means to escape your undesirable circumstance.
Yonkers Local Locksmith understands your situation when you seek our emergency locksmith service. As a result, we are committed to offering top-tier security solutions at reasonable pricing. Over the phone, our customer service agent can provide you with a free neither quotation for our emergency locksmith service. While on-site, our professionals can also provide you with an estimate of the total cost. Despite this, we consistently charge reasonable service fees while maintaining quality.
24/7 Lockout Assistance
Yonkers Local Locksmith provides the most trustworthy locksmith services 24/7 in Yonkers, NY. As Yonkers' 24-hour locksmith, we always deliver the best service. We provide reliable locksmiths for residences, businesses, and cars. We're Yonkers' best locksmiths and are available 24/7 for emergency help. At Yonkers Local Locksmith, we send a team of skilled locksmiths when you contact us.
These professionals arrive with all the essential tools, spare parts, and equipment in minutes. Because they specialize in locks and keys, our professionals fix your issue promptly. Our locksmiths unlock cars immediately. After a break-in, our professionals promptly replace or repair locks.
We put your safety first and guarantee the best emergency lockout assistance. Thus, our 24-hour locksmith service. We can replace your home, car, or business keys if you lost them, broke them, or had them tampered with. All of our Yonkers, NY locksmiths comprehend your emergency, and we're ready to get you out of your trouble.
We also come to you at your convenience and offer the service you request. Our Yonkers locksmiths use our well-maintained vans, and local technicians make it easier to reach you.
We will come to your company, house, or car to provide locksmith services anytime. Just point to your location, and a team of top technicians will assist you immediately. Call us anytime for the most trustworthy, competent, and honest lock repair service.
Get in Touch!
We can handle all of your locksmith needs in an appropriate manner. We provide excellent services at reasonable prices. We provide our services every day of the week, around the clock. Bonded and licensed. Call us now at (914) 292-5190!